eyedrum and Audio Video Club present "16mm Camera Workshop"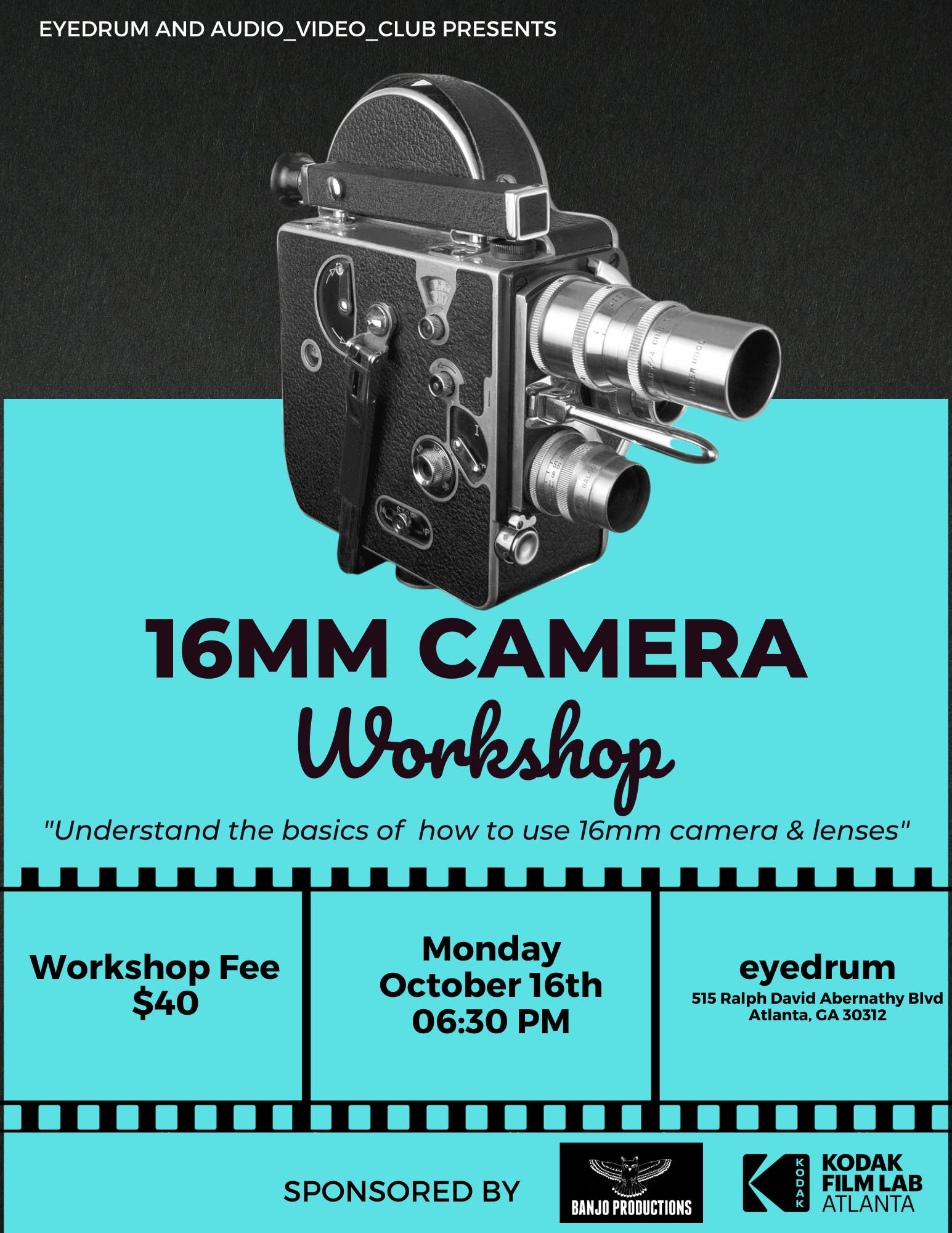 Join eyedrum and Audio Video Club as they present a 16mm Camera Workshop. Understand the basics on how to use 16mm camera and lenses. The workshop fee is $40 and will be held on October 16th at 6:30 PM at eyedrum, 515 Ralph David Abernathy Blvd, Atlanta, GA 30312. RSVP to the 16mm workshop today.
This two hour workshop will go over the different components of a 16mm film camera and its lens. Participants will have a hands-on opportunity to learn about this camera's parts, how to load it, and how to manipulate its lenses. Instruction will be led by Ben Winston, a local stop motion filmmaker. Participants will have a chance to experiment with different camera lens and angles.
"We intend to create a collaborative community, so we encourage participants to bring their own film cameras to the event. Following the workshop instruction, there will be time for Q&A for people to ask questions about their cameras and the things that are discussed during the workshop." - Audio Video Club
About The Instructor
Ben Winston, is an American filmmaker and animator born on July 13th, 1992 in San Mateo California. Got into film early on when I was about 10 because of the original Star Wars trilogy and World War II films like "The Dirty Dozen" and "Kelly's Heroes", back when World War II films were fun and not so serious. What started as blowing up model spaceships and Legos with a mini VHS-C camera, eventually evolved into stop-motion animation and live-action war and zombie movies in High School. I then went to film school at the Academy of Art in San Francisco for 2 years and fell in love with 16mm film. I dropped out after I learned all the equipment, (Cameras, lens choice, and film editing gear). I then moved to Atlanta GA where I got in a bad motorcycle wreck that funded my first feature film, "Hellbound" which I shot entirely on 16mm black and white film. After I finished that in 2018, I began working on a stop-motion adventure film called Space Pirates and I've been working on it ever since.
The event is sponsored by: Kodak Film Lab Atlanta and Banjo Productions
About: Audio Video Club is a projector and screen dedicated to the exploration of visuals and sound through events, exhibits and workshops. We aspire to change the way people view, perceive, engage and experience forms of audio/visual creative works.